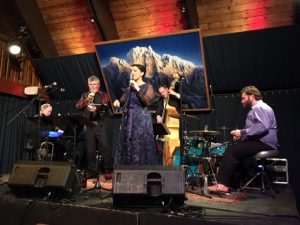 The Justin Glibbery Quartet (Justin Glibbery Music)
feat. Yanti
Friday September 1st
Doors 6pm
Show 8pm
The Justin Glibbery Quartet brings together some familiar faces to the Dream Cafe – Michael Treadway on drums and Stefan Bienz on bass. This time around there are some newer faces as well – Michael Perkins on trumpet is an Okanagan based trumpet player who has a stellar musical resume. Our guest vocalist is no stranger to audiences in the south Okanagan – Yanti! Her sultry vocal style compliments this diverse yet cohesive band. From innovative original compositions to torch vocals on jazz classics, this group will entertain you and have you feeling it!
For the past decade, Yanti has performed locally in many different sets and venues. From Jazz Standards at weddings or retirement homes to rock ballads for fundraisers, either live or karaoke, Yanti has a diverse range of vocal talents. Not only is Yanti involved with performances, she also passionately teaches voice, musical theatre and ukulele at venues such as Martin St. Art and Music Gallery, The Aidan Mayes School of Music and Even Dance in Penticton. Wife to local RMT, Brent Rowland, and mother of 3 daughters, Yanti loves to sing accompanying herself with a ukulele at Markets in Naramata, Penticton and Summerland through the summer. In this setting, Yanti invites her students to come and perform to help her collect donations to gift out bursaries and scholarships to the community for Yanti's music lessons and performances. As a featured vocalist for hire, Yanti performs with local jazz band Sax Among Friends and at Zia's Stonehouse with the Allan Crossley band. Please visit www.yanti.ca for details on upcoming performances.
Tickets
Premium $40
Wings $25
www.justinglibbery.com
www.yanti.ca