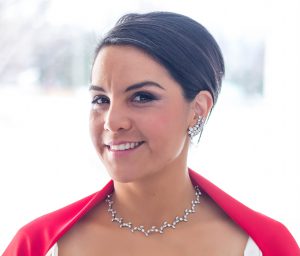 Yanti is a professional musician dedicated to help create the ambiance you want for your wedding or special occasion.  Because of Yanti's connections and wide range of music abilities, there are lots of options for you to choose.  From start to finish, choosing to hire Yanti and her merry band of musicians will allow you the peace of mind that all of your music needs for your celebration will be taken care of…
Personalized Music Packages:
From a simple guitar/vocal duet to a jazzy piano trio to a rockin' 6 piece band, Yanti can help to provide music for all types of occasions in keeping with your budget.  Weddings, retirement parties,  private house events, Christmas, birthday celebrations, fundraisers and just about any other excuse to have someone else take care of the music.   An email to Yanti with a date and general time will get you a phone call where you can negotiate what kind of set up you are looking for.
Yanti's jazzy tenor style voice lends nicely to Jazz Standards of the 20's, 30's and 40's in many different grouping and for many different occasions.  She also wailes at the Blues!  Her karaoke parties are always a night to remember and she's always learning up a song for some event or another.  Yanti has performed at many local stages, eateries, wineries, and retirement homes.  She also performs for private parties, weddings and other special occasions.  Because of her many contacts, Yanti has a number of friends she can call on to decorate time with her for most of your music needs.
THE ALLAN CROSSLEY QUARTET
Recently, Yanti has joined a group of local long-time legendary Okanagan musicians that have delighted audiences at Zias Stonehouse Restaurant in Summerland, B.C, The Vernon Jazz Club, and the Dream Cafe in Penticton.   The South Okanagan 'super-group' has Allan Crossley on keys, Stefan Bienz on bass, Larry Crawford on horns and Yanti's vocals.   Audiences have raved about this grouping, which is still developing new sounds and finding how each of their talents combine to form truly amazing sound.
Buy their CDs of original jazzy music under the name Allan Crossley on Apple Music, Spotify or Google Play.
Contact Allan Crossley for bookings and more details.
THE JUSTIN GLIBBERY QUINTET
 From innovative original compositions to torch vocals on jazz classics, The Justin Glibbery Quintet will entertain you and have you feeling it!.  With  Michael Treadway on drums, Stefan Bienz on bass Michael Perkins on trumpet, Yanti on the mic and Justin behind his piano, this  Okanagan based group puts on a great show.   Contact Justin Glibbery for booking information
YANTI & THE SO_CO_ BLUES CREW.       
A new project coming up combining the dynamic powerhouse voice of our good friend Yanti with an earthy brand of SO_CO blues. It will be Bonnie Raitt meets Koko Taylor meets Ma Rainey…and everything in between.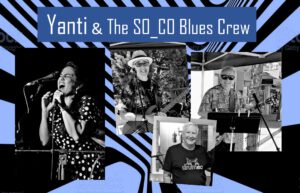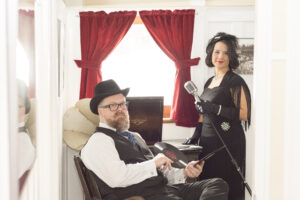 DJ TENACIOUS T
When Yanti and DJ Tenacious T team up it's a party!  From theme parties to dances, Fundraisers to weddings, this duo bring a dynamic feel to every event.
FUNDRAISERS
Yanti cares deeply for her community and is ready to help in any way she can.  Hiring Yanti to entertain guests at a fundraiser is a fun and affordable way to create a giving atmosphere for those in attendance.  Contact Yanti for more information about how she can help you with your upcoming event.
Yanti and her microphone have fronted various other groupings around the Okanagan.  The Okanagan is full of musical talent and Yanti delights in sharing her voice in a multitude of genres and groupings.  From singing in a duet with a lone keyboardist to fronting a seventy person choir, Yanti loves to sing and share her voice.  Yanti is experienced when it comes to a wide variety of performances.  From wedding to telethons, memorial services to board installations, Yanti can provide the musical "icing on the cake" for any occasion.
If you are a musician looking to hire a vocalist, Yanti is at your service!