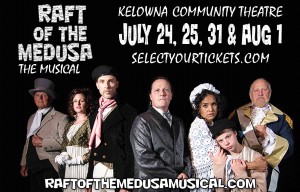 RAFT OF THE MEDUSA THE MUSICAL
Co written by Kelowna's own Randall Robinson and Pat Brown, The Raft of the Medusa is an epic rock musical chronicling one of the worst naval disasters in French history.  Yanti Rowland as Florence & Nolan Dunn as her son  Maurice  –  The only woman cast adrift, a choice she made to remain with her son Maurice who was condemned to the Raft.  Florence provides a glimmer of hope amidst overwhelming despair.  In the end she is the only character to sacrifice herself, that others may live.
For more information about this local smash hit, please visit The Raft of the Medusa the Musical website
SOUNDSTAGE PRODUCTIONS
Under the direction of Lynne Leydier A.R.C.T, Soundstage Productions have entertained multitudes of Okanagan Residents for over two decades.  Yanti's first performance with Soundstage was in Oliver in 2008.  She was hooked on theatre and was in Hair in 2010, Evita in 2012 and Les Miserables in 2014.  Working with such professionals, Yanti has learned the ins and outs of collaborating with top actors and singers in the Okanagan.
Check out the Soundstage website
THE BIG BROADCAST
Created by Craig Henderson,  The Big Broadcast 2014 is a tribute to the radio shows of yesteryear.  Sponsored by Peach City Radio, The Big Broadcast featured a variety of musical acts, acting and comedy and a complete melodrama play.
The Big Broadcast 2016 Facebook Page

A Gallery of Past Performances…