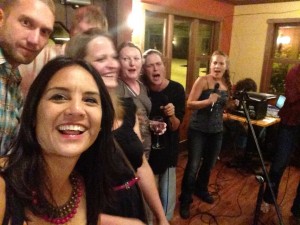 KARAOKE
Karaoke helped Yanti discover her love for vocal performance.  She will often relate to friends and audiences that she believes everyone has a song that they love to sing, and karaoke allows us all to be a superstar one song at a time.  Yanti and her husband run Everybody's Got a Song to Sing karaoke.  Pubs and parties with adults and kids, Yanti's karaoke shows are a great time to let loose and release your inner musician.
KARAOKE?!? WHERE?!?
PUBS
Traditionally karaoke has been for adults only in a pub atmosphere, but Yanti believes that kids need their chance to be a star as well.  Her shows can be for just the late night grown ups, but she has found a great way to include the whole family.  The family show starts earlier in the evening around dinner time.  Once the kids have had their time in the spotlight, the adults stay to sing into the night.  These 'combination' kids and adult karaoke shows have proven to be very popular for the family pubs in the South Okanagan.
BIRTHDAYS!
Kids and grown-ups alike enjoy being a star on their birthday.  Nothing allows for all-inclusive stardom like karaoke.  Yanti's portable system can be set up in doors or out.  If your birthday celebration calls for singing, dancing and a good time, consider hiring Yanti for a karaoke party to remember.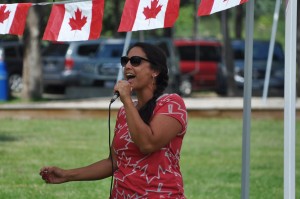 FUNDRAISERS & EVENTS
Yanti is passionate about music, but she is equally passionate about supporting her community.  She has found that karaoke shows are an effective way to raise money for worthy causes.  Various options are available for raising funds from simple cover charges to 'performing fees' for making someone get up and sing and 'immunity fees' for guaranteeing that you don't have to sing!  Karaoke fundraisers are fun ways to raise money for your cause.
CLASSES
Yanti's belief that everyone has a song to sing is what drives her voice classes.  Whether students want to perform or not, everyone has the chance to work toward a variety of performance opportunities from live band to karaoke performances.  Yanti also encourages her students to find their own performance opportunities whether at church, markets, talent shows or competitions.