UKULELE
It is Yanti's favourite thing to pass along her knowledge of playing one of the happiest instruments in the world!  Specializing in grade 4/5 classes throughout the South Okanagan, Yanti's groups have contributed to Christmas Pagents, Talent Shows, May Day Celebrations, telethons and more!
"Music is the mother of all science" Victor Wooten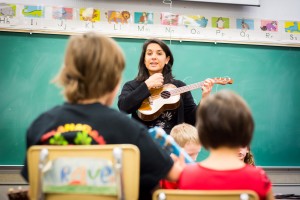 With this quote in mind, Yanti sets out to empower youngsters to take themselves on a journey through learning the work it takes to play.
Each class will start with finger strengthening exercises and a review of the previous lesson.  This 6-8 week course provides students with the opportunity to understand the strength and dexterity a musician needs to continue practice as well as the focus needed to learn.  Inherent in the ukulele is the quick satisfaction of learning the chords easily.  Previous classes have enjoyed playing songs with quick and easy formulas and patterns.
Yanti believes that music should be for everyone and so will work with the school's budget to facilitate ukulele playing for students (and teachers!)
TEACH THE TEACHER
For teachers, Yanti has a 3 hour intensive ukulele workshop designed to maximize your time in learning to play ukulele.
SONG CATCHING
Together in community, we gently explore our voices through the songs of the Ubuntu Choir Network as taught in the oral tradition.  Ubuntu means "I am because We are" Children are taught fun and catchy songs to repeat and develop.  SO many children grow up believing they cannot sing and this program allows for voice exploration in a low pressure situation.  Yanti believes it is vital to provide our bodies with healing vibrations from the inside!